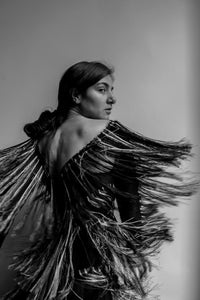 Meet the Designer
Rouba G was born on November 21, 1989, in Beirut, Lebanon. She graduated in 2010 with a BA in Graphic Design. In 2012, she earned a BA in Fashion Design. Later, she traveled to London to study Business of Fashion at Conde Nast College of Fashion and Design. In 2020, she moved to Spain to pursue her Master's degree in Fashion and Luxury Management at Global Business School Barcelona. Her relentless passion for fashion, coupled with her academic achievements, led her to venture into the fashion industry. However, her unconventional and audacious approach faced rejection multiple times. This rejection served as the catalyst for the birth of Rouba.G, officially introduced to the world in 2016.
Challenged to push the boundaries, possessing a unique style, and equipped with the essential expertise required to thrive in the industry, Rouba.G aims to convey a message through each collection. She accomplishes this by transforming everyday, mundane objects and concepts into magnificent garments. By combining her high-level technical skills with her aesthetic finesse, she creates ethereal results.
"The collections embrace womanhood, femininity and all her supremacy."
The Brand
Fashion, as a whole, is a cycle of trends that comes and goes. However, woman's sense of individuality and oneness shall remain; that is the message Rouba.G wishes to project- and promises to!

The designer emphasizes on fantastically detailed embroidery, fabric customization in the Ready-To-Wear, Bridal and Haute Couture.

The collections embrace womanhood, femininity and all her supremacy. Each and every piece portrays woman's independence and grace, expressing her individuality, celebrating her inner Goddess and thus signifying the brand's unique style. On the other hand, the lavish and sumptuous collection is also prolific in daring and dancing colors. Powerful women dare to wear colors!